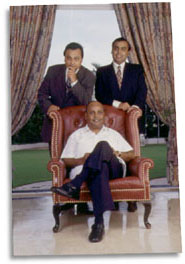 It is a dream team. Father Dhirubhai Ambani is the visionary, sons Mukesh and Anil (pic: left) the generals who would lead Reliance Industries into the new frontiers. The Big Chief and his two corporate warrior-wizards meet for two hours every day identifying and planning for the battles ahead. Top guns in each of the group's companies would have briefed them on venturing into new areas, may be involving investments of a thousand crores. Or they may have sought policy decisions on crucial issues in core companies. They would get the nod or a no-no. There are no ifs and buts.

Once a project is okayed, things have to move at jet speed. "Just do it. That is what Reliance is all about," says Group President K. Ramamurthy. The thumb rule seems to be: do your work and do it with excellence, and go have a ball with the salary and perks that are the best in the corporate world. The brothers lead by example. Anil is the first to report to office, checking in at his desk at 9.30 a.m. though the office hours begin at 10.30 a.m. It is a long day, winding up at 9 p.m. Often the work day stretches late into the night. If he leaves early, an important meeting has been scheduled somewhere.

Mukesh starts his working day at home and reports to his desk at 10.30 a.m. and immerses himself in his duties as vice-chairman and managing director. He monitors the progress of various projects, following up his frequent spot inspection tours. Anil is more into investment briefings, especially international investment briefing. Both, following in the footsteps of Dhirubhai, delegate as a matter of policy. The patriarch's fighting spirit is still in evidence after a stroke had laid him low for a couple of years. He is in the corporate office at Mumbai's Nariman Point Big Biz enclave in the afternoons for two hours, and his mere presence perpetuates the Ambani allure.

The brothers work in tandem. Anil is an excellent communicator. Mukesh is the strong silent type. Says Dr Gita Piramal, author of Business Maharajas: "They have carefully differentiated/allocated roles. Anil is very clearly in charge of corporate communications. The friendly public face of the intensely image-conscious group." Dr Piramal believes that Anil's strength lies in his very shrewd understanding of the financial markets, both international and Indian. "He is able to understand how the mind of financial analysts abroad works.... This is very important if you are going to have foreign share-holdings. The late Aditya Birla understood this very well. Now it is Anil Ambani."

The Ambani brothers have become business thoroughbreds, all along moulded by some tough times. "They have been through several baptisms by fire," says Dr Piramal. They are a perfect foil for each other: "Anil is very well read and he is very quickly aware of new trends," says Dr Piramal. Mukesh's actions speak for the can-do man in him. When an executive dithered over a project, he was told that nothing is impossible for Reliance and went on to do it in less than the scheduled time. The spirit is: this world is not perfect but still find ways and just do it.

The entire organisation is fine-tuned to react to any situation. Says Akhil Gupta, CEO of the oil and gas division: "Reliance prepares itself meticulously for this world that doesn't exist today. An example: Even though Reliance may have no intention of raising finance from the international market, it would always be sitting on a prospectus ready to the last full stop with only spaces kept blank for dates. The day the scene turns favourable, Reliance should be the fastest to raise capital."

The speed with which Reliance put up its 100-year bond in the US, the first and only Indian conglomerate to do so, stunned the big biz world. Says company treasurer Alok Agarwal: "[Then Union finance minister] P. Chidambaram gave Reliance the approval at 4 in the afternoon. At 7 in the evening he received a call saying that the bond had already been placed. That is how we work."
The biggest factor in the Reliance success story is Dhirubhai's ability to carry people with him. From brilliant technocrats to financial whiz-kids and high-flier managers to small-time dealers and messenger boys. Their commitment is total. Even those not involved in the management directly chip in with suggestions, and these are immediately implemented if good for the workers. Mukesh's wife Nita said the amenities for the contract labourers at the Jamnagar project should be upgraded. "Now you have a helmet and shoes for each worker, plus housing, medical and recreational facilities for his family. Schooling for his children from day one. I think it is a tremendous human resources practice, especially when you have 85,000 workers on the premises," says Reliance Petroleum Senior Vice-President S.C. Malhotra.

"It is a family spirit.... When my father died in 1978, the first telegram of condolence I received was not from my relatives but from the chairman," said Marketing Vice-President Suryakant Shah. "It was a longish message in which he said, 'This happens. Don't worry. We are there with you.' I was only 26 then, and it made a difference."

Those who do not fit in have to get out and those who do cannot fit in elsewhere. The manager of the mechanical power plant at Hazira, V.K.S. Unni vouches for that: "It is different from the culture one has in the outside world. I worked with Reliance between 1987 and 1994, left and joined again. Having been an insider and an outsider, let me say that it is difficult for a Reliance man to survive in the outside world. I suppose that is why people at Reliance don't leave the company."

Presumably the reason why comfortably placed go-getters are attracted to the group. Recalls A.G. Dawda, president, Reliance Petroleum: "I was working for a Saudi Arabian petrochemical company when I got this call from Reliance asking if I would be interested in joining them. I said no. 'Come and just have a look, even if you want to say no'. They sent me a ticket. I came down quite amused.

"Why was Reliance blowing up money on a fellow who has no interest in them. When I reached Jamnagar, they asked me to drive around to get a feel of the place. Oh God, I said, what can you show a man who has worked for 40 years in the construction industry? So to humour them, I said okay. I drove around the site. I saw 45,000 people working. After 45 minutes, I said stop. I went to the nearest phone and called Mukesh Ambani in Mumbai. 'This is it! I told him. The answer is yes'."

The talent hunt is a continuing process. "We are a passport-independent company," says V.V. Bhat, group president, management services. "We will look for and recruit talent from wherever in the world we find it." For instance, Akhil Gupta was happily settled in California when the call came. And he does not regret accepting it.

Pay is no problem once they have decided on a new recruit. As Senior Executive Vice-President Tony Jesudasan would vouchsafe. After having introduced the company, the question of pay came up. Anil pointed to a blank sheet of paper and said, 'I will go out for a ten-minute walk. Write down whatever figure you have in mind... Don't sell yourself too short and don't put down a figure where I could feel cheated'. He returned, took one look at the paper and said: "What!? That's all?!" Recalls Tony: "We spent the next few minutes inflating the figures!"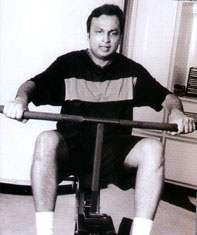 The informal style is policy, not the exception. Dhirubhai once noticed that one of the invitees to a dealers' conference, a small fry from Bihar, was clearly out of his depths in the midst of the big fish. He strolled over to him, put his hands over the man's shoulders and made some small talk, expletives included. That dream sequence would stay with the Biharibabu for ever.
Cut to the present scenario. Anil (pic: left) asked his secretary to track down a senior executive who happened to be holidaying in Alibag. When the guy came on line from Alibag, Anil asked: "You are holidaying out there, then don't bother. Have a good time."

The mandate for the top managers is simple: whatever you are doing, if it is in the interests of the investors do it. If it is going to reduce the EPS (earnings per share) of this company, then don't do it. No paperwork as delaying tactics and no bureaucratic bungling. Anil Ambani, Wharton degree and all, has matured into a hard-driving chief executive who is itching to hit the autobahns of world business. And he has it all, Big Confidence, Big Money and Big Ideas, to take on the world.

Gone are the flashes of temper and tantrums that unnerved Reliance officers and employees. Instead, he dazzles or stuns listeners with his rapid-fire speech. The message is: take it or leave it, it's my business and I know what's good for my investors.
At 38, he is impatient with stragglers, whether in his own company or in the world around him. Driven by an urge, perhaps, to make Reliance Industries a global power, now that it is the No. 1 corporate house in India.

He struts the world reeling off Reliance's achievements. Proudly proclaiming that Reliance is No. 1 in the world in producing this, No. 2 in this and No. 6 in that. His projections for the future: Reliance will move up the ranks by 2000. True, father Dhirubhai laid a strong foundation for sons Mukesh and Anil to build on. They have responded magnificently.

Unlike brother Mukesh and Dhirubhai, Anil is always there, up front. Whether to pick up the gauntlet thrown by competing business houses or to defend the group's name when mired in controversies or field inconvenient questions from journalists. He handles it all with the flair, some would say arrogance, of a man born to reign. If he is not interested in answering a particular question, that's it. He moves on, restlessly pacing the centre stage, pointing to the next questioner in the audience.

There is no doubt that he is a decision-maker. There is no going back or fidgeting once he has decided on a course of action whether in his personal life or in business. As when he decided to marry Bollywood heroine Tina Munim. It is said that the conservative family was stunned and that Dhirubhai tried his best to prevent the alliance. Anil had his way and Tina merged into the Ambani ambience, playing the subdued role of the typical Gujarati bahu.

As in their business policy decisions, differences are quietly sorted out. All discussions over policy/personal differences remain within Seawind, the 13-storey family headquarters in South Mumbai. In public, Anil and Mukesh present a hand-in-glove twosome calmly skippering the Reliance flagship through often troubled waters. Last year, they were jointly selected 'Businessman of the Year' by Business India.

Anil's chillingly calm confidence in tackling difficult bends on the information highway is also on display when he steers his business behemoth into unchartered territory. In his keynote address at the Businessman of the Year 1997 award function in New Delhi, Anil put it all very succinctly: "At Reliance, we firmly believe in two things, betting on opportunity and betting on our people." The Ambanis bet it big on India and its investors and is still counting the jackpot-earnings.

"The Ambanis are focussed on creating a world class corporate house operating in India. Unlike say Sanjay Lalbhai who is striving to expand Arvind Mills Group operations globally. What Mukesh and Anil are aiming at is substantially different," says a keen chronicler of India's Big Biz world. As Mukesh put it during an address at the Indian Chamber of Commerce-hosted 'Vision 2020' meet, it is necessary for India to become important economically, it is important that it identifies and sets clear goals, and to cash in on India's huge reserve of information technology talent.

Mukesh may be low-key, but he thinks Big too, perhaps bigger than his brother. He swears by the mantra father Dhirubhai had inculcated in him: "Think big. Challenge conventional wisdom. Think differently. Think long term". Mukesh was oozing optimism addressing the Indian Merchants' Chamber's India 2020 meet. An example: "At $10 an hour and working for two thousand hours per year, a young Indian in the information sector can easily earn $20,000 a year... In the next 20 years, it should be possible to employ 50 million people in the information sector. They will bring in an astronomical income of about a trillion dollars."

The scion of the only billionaire business family left in India this year after the Asian markets turmoil, according to Forbes magazine, was also candid enough to note that "India's future is in her farms. Agriculture has the potential to accelerate economic growth and social development in India".
Relying on Reliance
TheAmbanis have helped four million investors create wealth with
their daring and ingenious business practices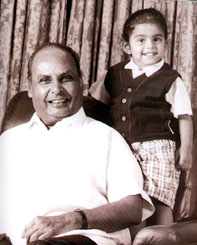 Dhirajlal Hirachand Ambani popularly known as Dhirubhai Ambani (pic: right) has become corporate India's living legend. Condemned a decade ago as a manipulator, today Dhirubhai has become a messiah of the country's investing public. A non-believer of tried and tested theories, Ambani, a high school dropout from Chorwad in Gujarat's Junagadh district, has puzzled conformists and competitors with his brand of management where the only things that mattered were results and benefits for his shareholders.

His financial fireworks coupled with unmatched business performance has created a mega-wealth that is unparalleled in India's corporate history. In 20 years Dhirubhai's Reliance empire has grossed sales of Rs 13,740 crore (Rs 67 crore in 1977) and made a net profit of Rs 1,653 crore for the year ended 1998. Its assets have grown to Rs 24,388 crore from Rs 33 crore in 1977.

But the Ambanis' reliance on people for capital support has paid off. When most industry players went to the banks for moolah, Dhirubhai went directly to those on whom the banks relied, the public. He has proved that wealth, if shared, gets multiplied. A fighter, Ambani always tried to safeguard his investors' interests along with his company's. On the afternoon of April 30, 1982, one such dare-devilry was seen when he took on a syndicate of brokers who were pushing down the share price of the company.

It plummeted from Rs 131 to Rs 121 as more than three lakh shares hit the market. But something that the bears never dreamt of happened. Challenging them, Ambani's brokers bought everything that was sold. When Ambani demanded the delivery of the shares, it was one of those rare occasions when the art of short-selling lost its sheen. The panicky bear cartel was forced to buy Reliance shares from all possible avenues. This crisis, in fact, made a hero out of Ambani.

And since then Reliance has remained a leader in the capital markets. All its mega issues have been successful at home as well as in international markets. Investor confidence was reaffirmed in Dhirubhai when he declared a 1:1 bonus as demanded by the shareholders at its last annual general body after a gap of 14 years.

To many the Ambanis epitomise the seedy side of business, tampering with import quotas, switching share certificates and pre-empting licences were some of the charges. Nevertheless, Reliance has built huge capacities at internationally competitive costs and become a world leader in petrochemicals. "Reliance has done a tremendous cleaning up job in the last two years," said Milind Karmakar, head of research, Dalal and Barocha. "The company has brought about a lot of transparency in its operations in the last two years."

Says Gul Tekchandani, chief investment officer, Sun F&C: "Its performance has been defying logic. Even in a crisis-ridden market in late 1997, when the oil prices dipped to their lowest in the decade, Reliance has managed to post a profit which was up by 25 per cent from last year."

The bourses have reacted positively to the company's results. Its share price shot up by Rs 8 within the day and closed at Rs 197.20. During 1997-98 the Reliance share price increased by 38 per cent while the BSE Sensex increased by only 16 per cent to reach 3892 points. The company's share price outperformed the market by 2.4 times! The company achieved an earning per share (EPS) growth of 22 per cent during the year and declared a dividend of 35 per cent.

Investors have been largely benefited by Reliance's ability to customise technology. Its strength lay in the way it integrated its projects. Take the example of Reliance Textiles, which was the first Ambani company to go public after its merger with Mynylon of the Pais who had once owned the Syndicate Bank. Considering the polyester content in Vimal fabrics, the choice was to manufacture polyester staple fibre (PSF) and polyester filament yarn (PFY). So in 1982 Reliance set up the PFY project at Patalganga in Maharashtra followed by PSF capacity in 1986. Next it integrated backwards in purified terephthalic acid (PTA) in 1986 and paraxylene (input for PTA) in 1988. It then pocketed the detergent manufacturers by putting up a plant to make linear alkyl benzene (LAB) in 1987.

In 1991, the company embarked on its most treasured project, at Hazira, the largest single multi-feed ethylene cracker in the world. Hazira is a conglomeration of many world class plants, churning out polyethylene (PE), polypropylene (PP), polyvinyl chloride (PVC) , PFY, PSF, polyester terephthalate (PET) and other intermediates like vinyl chloride monomer, mono ethene glycol and pure phthalic acid (PTA). The Hazira plant is the biggest chemical complex in India.

While this methodology helps in the economies of scale, there are many bottlenecks such as inadequate port facilities, erratic water and power supply and high cost. To overcome these, Reliance went on to create its own facilities. It built its own jetties in Hazira and a single buoy mooring, 5 km off the coast, for large tankers to unload liquids directly into storage tanks. All Reliance plants are self-sufficient in power.
In fact, the ethylene terminal at Hazira was a stunning achievement. Before the commissioning of the cracker plant Reliance imported large amounts of ethylene for its downstream PVC and PET plants. To transfer the ethylene at 138 degrees it set up a cryogenic terminal in the deep sea. An achievement Anil Ambani is proud of: "People said ethylene transfer is unsafe and not possible in India. Once we proved that we can do it safely, the world is copying it."

Reliance uses what is known as the 'sweat technology' whereby it engineers milk as much as possible from the plants. To enhance output of PTA at Patalganga, the team added a 30-tonne compressor for supplying more air to the reactor where paraxylene gets oxidised. But the engineers were not satisfied; only 23 tonnes air was being used. The team is working on how to use the remaining seven tonnes!

Mega challenges excite and power the bosses of this petrochemical giant. The common shibboleth heard in the premises of Reliance is Dikhana hai (We have got to do it). Executives are encouraged to think laterally and view business as a series of processes. Managers are given the power to take decisions, which expands once performance is proven. The company has relentlessly sought professionals of high class, picking the best from other private companies, public-sector and the multinationals. The mantra in Reliance is 'owner manager'.

Reliance is also known for its financial prudence. "Reliance's management, strategy and size are world class," says Sanjeev Prasad, analyst, Kotak Securities. Insiders say that the company never defaults on its payments to financial institutions. All its payments reach the institution at 2.30 p.m. sharp on the day it is required to be paid. Says a banker: "But they never send the payments earlier."

Being a prompt borrower has helped Reliance raise funds with ease. In 1996-97, the company raised funds worth $614 million from the international market. Reliance is the first Asian company to issue 100-year maturity bonds in the global markets. The bond issues were part of a strategy to reduce its average cost of capital and increase the average maturity of its debt. This has helped the company bring its capital cost in line with global benchmarks.

Reliance has covered most of the criteria for competitiveness, including total integration, state-of-the-art technology, low-cost feedstock and cheap funding. In fact, its cost of production is among the lowest in the world. Its capacities are so huge that once the company is totally operational it will become one of the top five companies in the world in its product category.

Says Brijgopal Daga, chief general manager, Unit Trust of India: "The biggest plus point of Reliance is its size." According to him, the company has been able to beat the vagaries of the market because of the huge capacities. Its future looks bright with the government proposing to increase tariffs in the petrochemical sector to stop anti-dumping. This will help Reliance because this year, when the prices of petro products were at a 10-year low, their growth came from a 300 per cent increase in volumes. "The smallest shift or turnaround in the cycle will give them tremendous growth," says Daga.

But there some who are sceptical about this trend. Says Kotak Securities' Sanjeev Prasad: "We are expecting an 11 per cent growth in the petrochemical sector so Reliance may not be able to sustain this profit for next year". But some Reliance officials feel that even if the global petrochemical prices fall by 10-15 per cent, the high-value addition at Hazira will insulate Reliance from such shocks.

While other corporates were involved in cutting capacities last year, Reliance was busy adding capacities. "We believe in creating pre-emptive capacities," says Anil Ambani, managing director. Reliance forecasts the demand for its products to grow at 15 per cent in the coming years.

Reliance's efforts are fully focussed on the domestic market. Almost 97 per cent of its turnover comes from sales in the domestic market. "There is no reason for them to sell outside when they have such a good demand in India," says Tekchandani. Adds UTI's Daga: "Whatever little they could be losing out in exports, they make good through transactions like picking up money through GDRs."

In the money market the only time it slipped up was when it decided to convert the triple-option convertible debentures issued in 1993 into equities, instead of paying the investors. That was when work on its Jamnagar plant started. This move made analysts a bit wary for two reasons: one, it bloated the company's equity and two, a cash-shortage was perceived.

But the Reliance magic never fails and its results have proved otherwise. The secret of Reliance is its quick project implementation and a strong balance sheet. And you can rely on that.