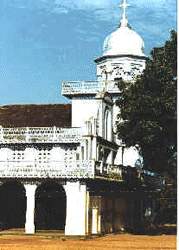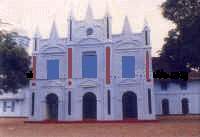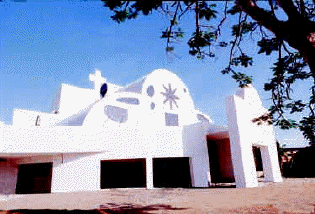 Parumala Church
The most important of the spiritual centers of the Malankara is the Tomb of His Holiness the "Parumala Thirumeni". The 30 cents of land that Arikupuram Koruthu Mathen donated to Pulikottil Joseph Mar Dionysios in July 1872 became in later years Parumala Seminary. The Arikupuram family also gave land for building a church adjacent to the Seminary. The Church was constructed as a result of the efforts of Parumala Geevarghese Mar Gregorios. On 27 January 1825 a provisional consecration of the Church was conducted. Later, on 19 August 1912 His Holiness Abdheth Misheha, the Patriarch consecrated the Parumala Church. The Church is built and named after the Apostle St. Peter and St. Paul. The burial place of Yuyakim Mar Ivanios can also be seen here.
On 8 September 1912 Kallasseril Geevarghese Mar Gregorios and on 3 November 1930 Puthencavu Geevarghese Mar Philexinos were consecrated in Parumala. On 29 April 1991 at the seminary the installation of His Holiness Baselios mar Thoma Mathews II Catholicos took place. Here 5 Episcopas were consecrated on 30 April 1991 and on 16 August 1993 2 more Episcopas were consecrated.
Here the Malankara Association met in 1873 and on 18 February 1878 with Pulikkotil Joseph Dionysius in the chair and again on 10 September 1992 and on 26 May 1994. The Church is situated 1/2 a K.m away to the east from the Mannar Junction and is 10 Kms towards the south from Tiruvalla on Thiruvalla- Mavelikara Road and 9 K.ms towards the north from Mavelikara. Here on Fridays the Holy Qurbana with three celebrants (Munninmel) is conducted and meditative discourse is given. During the day of 'Pentecost' the 'tarrying Meet' and during the '3 day Fast' and the 'Lenten season', 'Meditation Meets' are conducted.
November 1 and 2 are the main feast days. In connection with this feast a whole week is being observed as 'Pilgrimage Week'. Various Seminars are conducted and lectures given. Medical camps are also held under the auspices of the Mar Gregorios Hospital in Parumala. The New Church in Parumala is being constructed at the cost of Rupees Three Crores. Rev.Fr. P.M.Kuriakose is the Manager.